---

---
Everybody breeding is always saying stick to your vision this and follow your goals that and you've got to have a plan and so forth....Well that may or not be easier said than done, but here is Blackacre's best crack at it this section showcases studs that we feel are extremely special and have characteristics that we want to capture in our congress of wonders ( a fancy euphemism for a FREAK SHOW) Another thing about having a vision that may or not make sense is that in strict adherence that very pursuit you throwing away the spontaneity that is necessary to truly allow something great to come about and manifest itself....It's heresy —We Know—But we also don't believe in so called "breeding to a standard." Nevertheless we do believe in breeding not all f@¢ked-up dogs. We're not going to ever purposely breed serious health problems, but we're not going to say our dogs must all be exactly 17 inches, and must have no single fault...to us that is just disrespectful too the dogs. What makes the dogs in this section so special is they all have that certian as the French say, je ne se qua, or a certain "I don't know what..." and that is what makes them so special....It would be pretty boring if we just listed out these characteristics in a vain attempt to try and explain the unexplainable so for what it's worth and in no particular order except perhaps for roughtly the order we discovered them for ourselves and fell in love....please allow Blackacre to present ....

THE STUDS WE LOVE....
***Please pardon our progress as we are continuing to add pictures of these marvelous Specimen's as time permits...***
Blue King's Big Juan Geno
King Kong's Gambler
Edge Empire Blue Pride's Tommy Gunnzz
Playboy of LB Finest
WCCB El Centenario* & Zenstyles Pokemon
*( El Cente is not on here just for looks his productions are what earned him his spot here)
Orange County Bullies Stomper
Bakersfield Bullies Gannon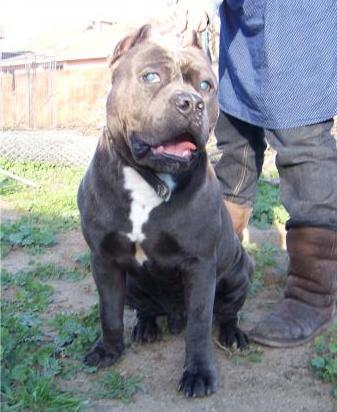 Desert Heat's Hitler and Bin Laden

Colden's Massacre
RE Skoundrel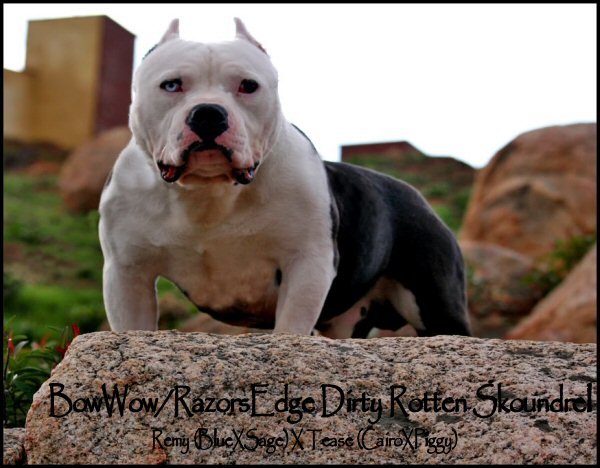 Toritos Bulls Hellboy
Outcross Kingdom
Roaddog's Swagga, Teardrop & Israel
BlueLine Boys
Camofage
Thrilla Tank Jr Ghostrider Rico Act BluCheez
Diehard's Iron Tank
DDK Zeus and KeyChain
House of Blue Pitbulls DirtyBoy
Lionspaw Pits Diamondback Rattler
Demonios Realm Black Ryno
SIK INTENTIONZ Caribou Lou
Royal Family Head Honcho
Bonafide King Flexx
PoundforPound King Ra
| | | |
| --- | --- | --- |
| RCP Bane AKA Devils Reject | | RCP Oddjob |
| | | |
GK Korner
The Unstoppable Juggernaught
Garcia's GK Smokey
UKCMW Kimbo/Yogi/Toro
GK Konvict CDC ###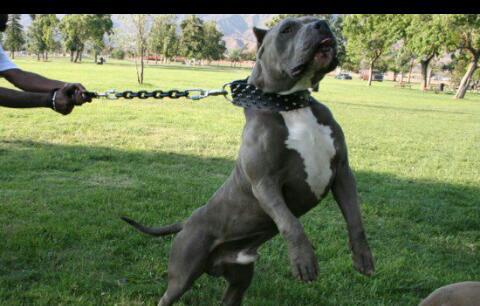 Soto Pit's El Machete
Mortal Monsters Hammer Head Chrome and Kilo
OG Gottiline Gangsta's
Notorious Boss JUAN GOTTI GrandSON SON of Excecutioner Bones
Gottiline Guero
Southbay Gottiline Timone
Gottyline Ichiban #1

Gottyline Baloo Jack
Shogun
Big ol Badasses
Sunline Knuckles
Hawaiian Legend
SS IROC
Iron Rails Rush and Freight
DDK Blue Dragon
RBG King Liger
BlueSteel of Dagger
BGK's The Rock
Reds
Madrigal's Porky
VietShark/RedLion Steroid
Doomsday Hanibal Lector
Hatfield's Craigslist
Extremes
Terrorist Threat
Benny Blanco from Da Bronx
GKK Headward Swellington

CrossRoads Kurupto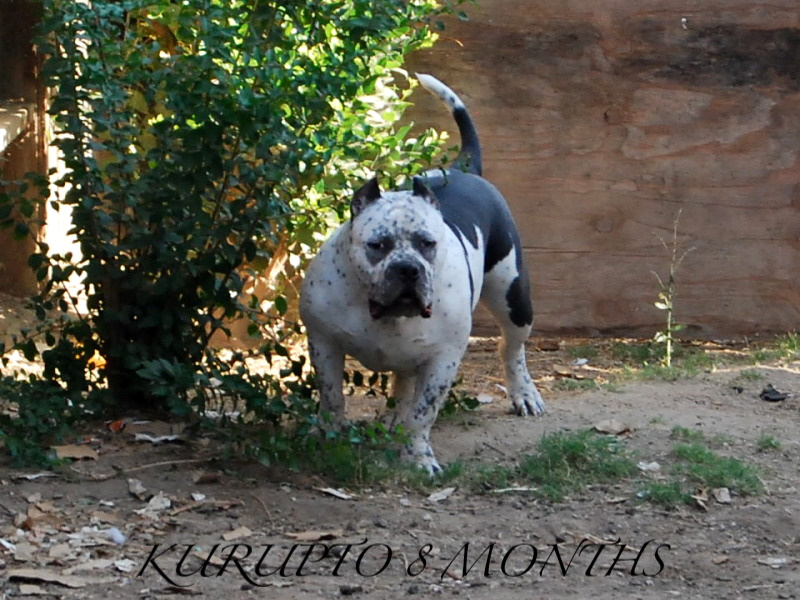 Throw'd Pits Willie Esco Da Don
Zullou's Kanye West
Soldier

Muggleston Havok

PitKrew Iceman

Pocket Passions
Bayani Bullies Tum Tum
MWB Von Mar
Bull City's Mugsy
Wisconsin Legend Pacquiao
Gottiline Kong
>
Monsterpit Kennel's Don Julio

Kona of BigBone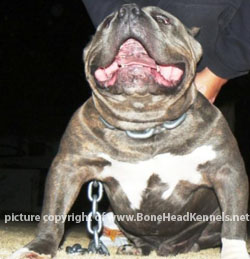 WCCB Enzo
Mr Gucciano aka Gooch
Lil Marvin the Martian
Gottiline's Dax*
**(this is probationary until I get to see him in real life because the fanfare is already to great for me to contribute to it further)
Kingpinline/Bullycamp's Mr. Miagi*
* Mr. Miyagi is on this list because of his influence on the pocket american bully and because he is my little brother's favorite dog
PERFORMERS
Dungeon 5150 White Dragon*
*White Dragon is featured for his pulling accomplishments as well as looking damn good!!!
Black Clyde*
*Black Clyde is featured because of his trailblazing participation and sucess in obedience and protection competitions
Blue Ribbon/Shock N AWE White Knuckles*
*Knuckles is featured because of being the first ABKC XL GRCH and having a bunch of titles for different shit
WOMENS' GROUP
Having a dog in this section is a tremendous honor reserved for only a select select few....These are the Ladies that light up our life and programs...Whether you have bought a girl on here, produced a girl on here or have one of these ladies in your pedigre... You my friend... EITHER... ARE already or are well on your way to becoming a pitbull power player...
Clavo's/Rockafella Reyna
Dragon's Pride Kilo (FEMALE)
DDK Athena (FEMALE)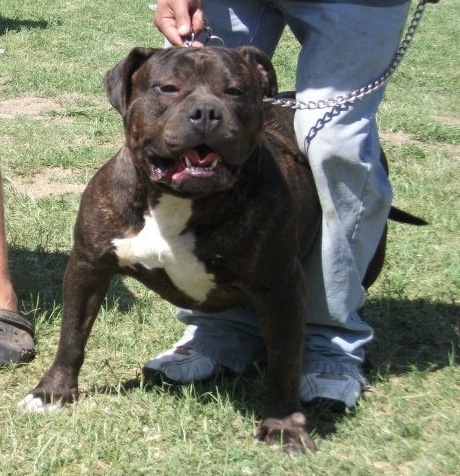 Sunline Chanel
Demonios Realm Diamond
Odoggz Big Blue Koffee
ULP Psycopath @ GKK
ULP Syndrome
Big Babii
Babii's Daughter Mia
Pam Anderson
Mystique
Mortal Monsters Jade
MCK Enorma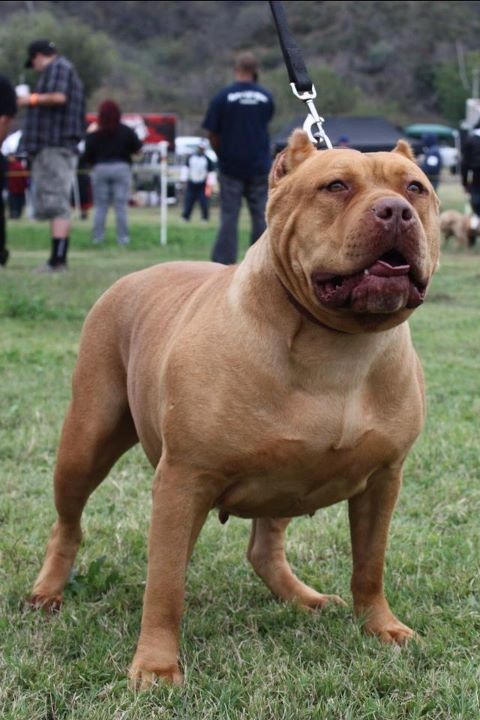 Gracie Scarface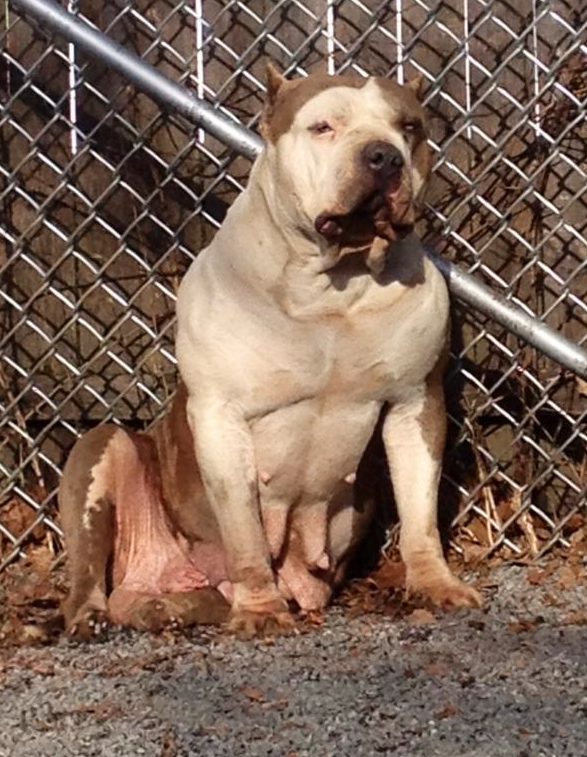 RCP Burlesque
HBK Effie White
Dragon's Pride KO
Luxxor
ROMA &Bella*
XLK Lil K
***And No. We havent forgotten the ladies, but at this point in our program we are striving to produce females that look as if not more badass than the males...once/ if ever we are able to get those traitts set where we like we might try to add some as yet undiscovered charateristic or quality to make them badass yet slightly more feminine as well. But we're not anywhere near there yet... so the studs should work for the purpose of demonstrating what we are after...afterall it would be fairly indiscreet for us to go around asking all the other owners if their girls are still producing...and there are probably only a handfull that would really qualify for the same recognition as the studs we love...
This section is dedicated to the venerable studs that have either hung it up for one reason or another or have gone off to The Island with Tupac, Biggie, Elvis, Cairo etc...These are basically dogs that are no longer squirting there seeds everywhere although we wish they were...Basically we wanted to include dogs that we'd put on the Stud's we love page and that we'd be using if they were still around. While we can't list every dog that has had a big influence on the breed and our program, we can show and list a few that we really feel epitomize the Blackacre look we are attempting to bring together...and demonstrate extra reverence for these amazing bygone producers...
Shogun/King Kong's Bruising Axel Foley

Blueline Jalisco & Smokey
Kapu's/Roaddog's Girlfriend

BowWow's Blow

GK Mr. Brass Knuckles
New Troijan Monster G

Razor's Edge Purple Rose of Cairo

Arnold The Terminator

Legion of Doom's Mission

Westside Monster JoJola

Do Goode's Big Boi
Duke Reyes/Rhino/ButtheadLightsOutx???/Etc/Etc...(Who knows if he's really Retired)
Odoggz Tookie Williams

Royal Bloodline King Lion

Xroad's Kryptonite

Boomhower (FreakxPuma)

Fergie (FreakxPuma) (another girl)

RE Escobar

RE Blue Pimp Suit/Tux

RE NT Miss Piggy (female believe it or not)

GK Kora the Headmaker

GK Stone & Hazul

Butthead's Hook ( survived a rattlesnake bite x2 getting hit by a car and a Cougar getting in his cage)

Daisy Dukes (maybe retired but NOT SURE)

PowerLine's Blue Ace
Ron's Payday
Dungeon Chevelle
Gottiline El Presidente*
* On our latest check Presidente was sold to a new owner in Thiland so he may/or may not be officially retired from studhood in the US
Dungeon 5150
Royal Family El Jeffe
RIP-909 Pits Hummer

Roaddog's Q-Tip

MCK Kamodo Dragon
Mena's Stunner
Low-Jack Remy Martin
Demonios Realm Kaos
Kurupt
Dungeon 5150 Heavy Delicious "Heavy D"
Diehard's Strait Out of Compton aka "Mac-10"
Demonios Realm Komptone
Dream Team's Suge Knight